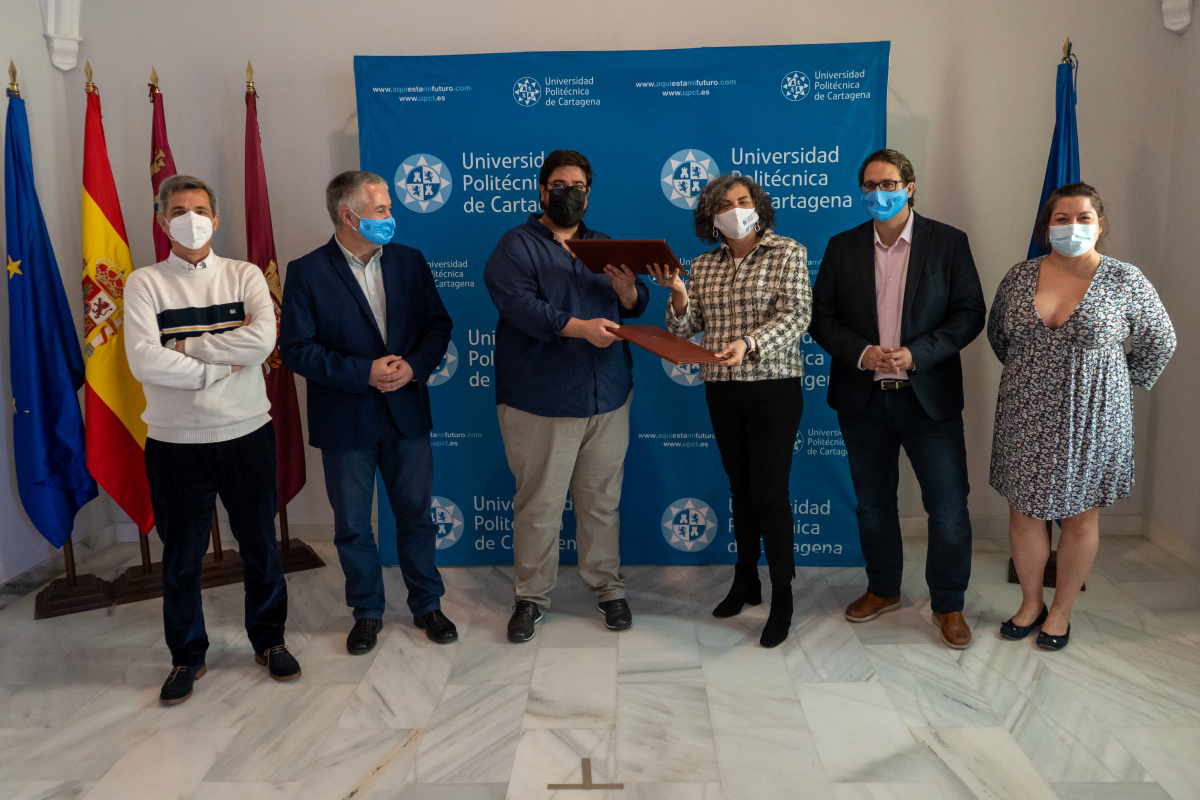 Biyectiva Agreement Signature - UPCT - 15/11/2021
From the University to technological entrepreneurship and back to the Polytechnic institute to attract talent and collaborate on R&D projects. The company Biyectiva, created by two UPCT graduates and with six former students on staff, joins the Network of Chairs to promote innovative solutions based on the use of artificial intelligence and process automation.
The new agreement will focus on various fields such as software development, the use of spatial analysis tools, the implementation of information technologies in administrations, and more. It will have a scholarship student and will be directed by Professor Salvador García-Ayllón, with whom the company is already collaborating on the prediction of traffic patterns for the development of the Sustainable Mobility Plan of the City of Cartagena.
The company also works for this city council in a citizen participation project arising from an innovative idea of one of its employees and also a former student of the UPCT. The Murcia City Council, the PRISA group, or professionals of recognized prestige in their sector, such as doctors De Prado and Ripoll, are other clients of Biyectiva; a leader in advice for technological innovation, software development, and technology maintenance for companies and administrations.
UPCT graduates Felipe Segura and Rubén Martínez created Biyectiva in 2018 together with soccer player, and investment partner, Andrés Fernández. In 2020 they tripled their workforce. They have been awarded as Entrepreneurs of the Month by the Institute for Development of the Region of Murcia and the company was one of those chosen to form the map of Artificial Intelligence companies, created by the Ministry of Science, which awarded Biyectiva the seal of Innovative SME.
The director of the chair, Salvador García-Ayllón Veintimilla, is an expert in the application of new technologies to the analysis of spatial data and head of the UPCT Territorial Policy, Environmental Planning, and Infrastructure research group. In addition, he has been a visiting professor as a teacher and researcher at world-renowned universities such as the University of California at Berkeley or the Massachusetts Institute of Technology (MIT).
Source: UPCT, Biyectiva