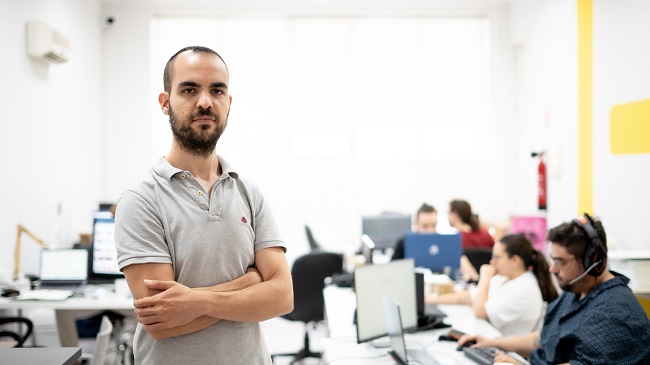 Rubén Martínez, founding partner and CTO of Biyectiva. - 20/07/2023
Rubén Martínez was born in Murcia 32 years ago but has lived in Cartagena for more than a decade. He lives by and for technology, a passion that led him to study Telecommunications and, more recently, to create in 2018, together with his two partners, Felipe Segura and Andrés Fernández, Biyectiva, a benchmark company in the area of Artificial Intelligence and of which he is Chief Technology Officer (CTO).
We chatted with him to learn about its origins, its main past, present and future projects and to know a little more about the person behind the success of a company that, from Cartagena and the Region of Murcia, has begun its national and international take-off, as shown by the recent award granted by Agrobank in which they competed with companies from all over the world.
You started operating in 2018. Since then and until now, what would you say have been your star projects?
That year we started the commercial activity, but we really started focused on product, but we have been dedicated to implementing products for a little less, about three years. So far we have carried out projects of a very different nature, from the medical sector with Ripoll and Prado, who are some of the most renowned doctors, especially in matters related to the knee and ankle; we have worked on projects in the defense and industrial sectors, for example for the Zamora Group, one of the leading companies in the region, or for the Caliche Group, which has recently become involved.
And for the future, what projects do you have in mind, and is there one you especially dream of?
This year we are focusing a lot on the agro-industrial sector, especially on the issue of quality supervision. In the agribusiness sector, this means being able to carry out an automatic review of product quality. Today, to get an idea, everything that is produced in the field reaches a post-harvest chain where there are a number of people who are literally watching fruit for eight hours, discarding what is in bad condition and selecting what is in good condition. We are carrying out a total revolution of this process, since it was being done in a very manual way, to automate it by introducing Artificial Intelligence systems that free up this totally archaic labor force.
In the industrial sector, this quality supervision process translates into ensuring that the quality of everything that is produced is correct. For example, with the Zamora Company group, we are guaranteeing that every bottle of Licor 43 that is produced is both labeled and produced in the best possible way so that the public can enjoy the best possible product.
You are making a big bet on Artificial Intelligence in the agricultural world, especially in the agri-food industry. How do you think producers will take this change?
Something we should be proud of in our land is that, at the end of the day, the producer is an entrepreneur and, in fact, he is an entrepreneur. He is a person who looks after the performance and productivity of his company. That means that despite being someone who is normally in the field, he has a good commercial and entrepreneurial vision.
Anything that helps to improve the productivity of their sector will generally be well received, in fact it is a sector that is used to making large material investments.
What for us in the service sector is a big investment, producers are very used to making them. For example, a tractor costs between 80,000 and 100,000 euros, so they are used to investing in order to be able to produce in the best way. In the same way, the quality review can be used to improve productivity.
It is true that you may not be familiar with AI, but Artificial Intelligence is not the end, it is the means. The end is to produce more sustainably.
There is currently a great social debate about AI. Do you consider that it puts people's security, privacy and even employment at risk?
Let me give you an example. When the Internet was developed, a lot of people were worried that it was going to take our jobs or hack our home camera. In the end, when a disruptive technology comes along, society gets scared or shaken. That is where we have to start raising awareness among the population that these are technologies that come to help us. Likewise, we also need to legislate to control AI, just as was done with the internet. It is the job of our legislators to take people's concerns into account.
Regarding work, and speaking of telecommunications, switchboards were digitalized and nobody thinks that every time you make a call in a telephone switchboard there will be a person removing and putting cables. Nowadays there are a series of jobs that we are used to and we have. I am convinced that quality supervision in the agricultural sector is going to be one of those examples where nobody will think in fifty years' time that there could be people who spend eight hours watching peppers go by.
Earlier you made reference to the Caliche Group, one of your latest incorporations. How did this agreement with one of the largest companies in the Region of Murcia come about?
Grupo Caliche, both in the region and nationally, is a reference in logistics and has a very good penetration in the agricultural sector, which is very much in line with the objectives of Biyectiva to have a greater presence in the agro-industrial sector and we saw it as a very good partner to collaborate with. In addition, we had known the company and its executives for a few years and we were close to them through different events in the technology sector. The opportunity arose and we did not hesitate because it seemed very interesting.
What do such agreements mean for Biyectiva?
It means that we are no longer framed in a regional sector but can have a national and, soon, international impact.
Are you open to the entry of more investors and will you open a new round of financing to expand projects and markets?
Biyectiva is not so much looking for funding in the startup model, because in reality we are a company that provides AI services, investment rounds, but rather seeks to consolidate in certain sectors and therefore seeks more partners than investors. I think Grupo Caliche perfectly met this profile.
You closed 2022 with sales of 296,000 euros and a growth of 14.5%. What are your forecasts for 2023?
This year we intend to close, and we will almost certainly achieve it, with a turnover of half a million euros. We still do not have that national penetration since the agreement with Caliche has been consolidated recently, but from there we will surely grow much faster, which is what it is all about.
You recently received Agrobank's Match Day Award, how do you value this type of recognition and what value does it bring to the company?
We are very happy to have achieved this because it has been a great effort. It means recognizing the work and the good decision we made last year for Biyectiva to focus on the agricultural sector, which is crucial for us. First, because it is a sector that is not as technified as it could be; second, because it is one of the main economic engines of the Region of Murcia, and third, because in our environment we have nurtured this sector and we believe it is very important. We are therefore delighted to receive such a remarkable recognition as that of Agrobank, of course.
Together with Felipe Segura and Andrés Fernández, you are the most visible face of Biyectiva, but you have a great team of professionals behind you. How many employees do you have? Are you going to expand the staff?
Right now there are fifteen of us on staff. The reality is that Biyectiva is one of those companies that by its nature is probably not a great generator of employment.
It is a company with very specialized knowledge that also manages to be productive not based on its number of workers, because to produce more we do not need more employees, because the knowledge that is generated in Biyectiva stays in Biyectiva. What we need is very talented people, selected more with a sniper sight than with a machine gun, and to grow with sustainability, which many companies forget.
What qualities and knowledge should a professional have to join the Biyectiva team?
We are looking for talented people, who have knowledge in the area of Artificial Intelligence, but above all, a desire to learn and develop. And in particular, who have the ability to solve problems and face technological challenges.
Is there sufficient incentive for entrepreneurial talent from the universities in the Region?
Talent yes, but not business talent. That is to say, a lot of talent is being produced and that is something I always defend when I leave here. Talent has the property of being homogeneously distributed. It is just as likely that a genius is born in Murcia as in Madrid, that is the reality.
The problem in Spain, in general, and I don't think it is so much a regional issue, is that entrepreneurship is very little encouraged.
I recently read a statistic that said that most of the employment created during the past year was public employment. I threw my hands to my head because I don't think that's the best way to grow as a country, but that's not the fault of the universities, it's endemic to the system.
How does it feel to see that the company you created is growing in this way in a short time? How far can you go?
It makes us tremendously proud. Biyectiva was our first child and to have it recognized nationally and internationally in some cases, because companies from all over the world participated in the Agrobank award, gives us a lot of joy and satisfaction.
On the contrary, the companies that have been betting on AI for the last five years will do nothing but grow, firstly because society demands it and secondly because we were there when Artificial Intelligence was still a bit 'immature'.
I firmly believe that we have the ingredients and the capabilities to continue to grow.
Out of curiosity, what is it like to be a partner of a First Division soccer player like Andrés Fernández?
I believe that Andrés, and he has demonstrated it many times, is much more than a First Division player. I don't know if it is because he is an elite athlete and has that mental approach to problems or simply because he is like that, I have not had the experience of sharing a company with more top athletes, he is a person with a great capacity to make a team and to face complex problems.
How do you assess the situation of companies, and more specifically of technology companies, in the Region of Murcia?
The Region has produced and is producing very good technological companies. Let us not forget that one of the four polytechnic universities in Spain is here, so we have a great productivity in terms of technological talent and that is why sometimes, scarcely but sometimes, new technological companies are consolidated.
I think that the Region of Murcia has a lot to say at national level and I would not be at all surprised if the trend we are seeing recently of companies that manage to consolidate and are awarded is spreading. We are going to give a lot to talk about.
Do these companies receive sufficient support from public administrations?
From my experience with Biyectiva, most of the calls, grants and awards are usually at the national level and not so much at the regional level. I'm sure there will be regional grants, but as far as I know most of them are at the national level, probably because technology sector boosts are part of the centralized competences of Spain rather than of the individual regions.
We spent a couple of years at the Ceeic in Cartagena, where we felt very comfortable and received a lot of affection from both the staff and the institutions, so I have no bad words or bad memories, on the contrary, but there is no doubt that most of the important aid is national.
We are once again immersed in an election campaign. What do you miss the most in the proposals of the different political parties for these General Elections and in general?
As a good doctor who has had his share of research, I always miss a lot of investment in research and innovation. Spain invests a lot in sun and tourism, but there is a lack of real investment in R&D to consolidate us in other sectors. If we want to be a diversified country, we need to invest in innovation and research in these sectors.
In fact, most of the relevant aids such as the company digitalization programs or the ICT check come from the Next Generation funds, which, it is true, have been hard fought.
Outside of work, where can we find Rubén Martínez?
My son is about to turn one year old, so I have little free and leisure time, and the little I have I dedicate exclusively to my family. Right now it's business and family, and that's it. When I have some time you can find me in something related to technology. I have always been a very technological person and I have always breathed technology. Even while I was doing my PhD I was already involved in technology associations. I like it both professionally and personally.