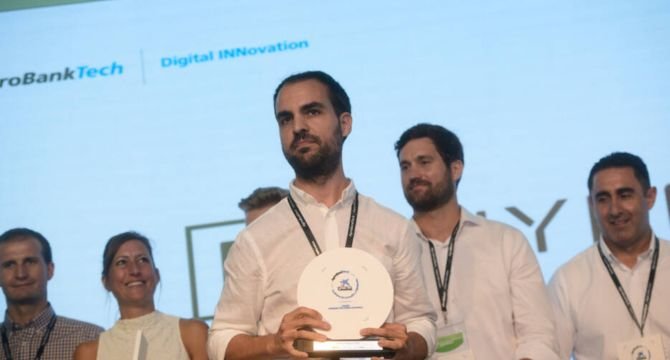 Image of Rubén Martínez collecting the 'Match Day' award. - 13/07/2023
The company Biyectiva has won the prestigious national award in a competition in which more than 130 high-level companies participated. The recognition awards the highest distinction to those companies that provide an innovative and disruptive solution that brings positive value to the agricultural sector.
Biyectiva has been working for five years in Artificial Intelligence with a clear specialty in the sector. It has received the 'Match Day' award from AgroBank Tech Digital INNovation, which was collected by the Director of Technology, Ruben Martinez Sandoval, PhD at the Polytechnic University of Cartagena, and Fatima Ezzahra, Administrator and Head of Human Resources.
Biyectiva's innovative solution is based on artificial vision, a technology that has revolutionized the agricultural sector by collecting a large amount of data and determining the optimal state of the feed in a matter of seconds.
This award was given in the framework of the AgroBank Tech Digital INNovation program, promoted by AgroBank and Innsomnia Accelerator. This program concluded with its first edition at the "Match Day", an event that brought together the 15 most cutting-edge startups in the agrotech sector at national level.
The closing of the initiative took place at the facilities of Innsomnia, in the Marina de Valencia, and was attended by the territorial director of CaixaBank in the Valencian Community and Region of Murcia, Olga Garcia, Carlos Seara, director of AgroBank Network, Isabel Bombal, director general of Rural Development, Innovation and Agri-Food Training of the MAPA, and Salvador Navarro, president of the CEV and vice president of the CEOE.
Este reconocimiento a Biyectiva subraya la relevancia de la innovación y la tecnología en la agricultura sostenible del futuro. It reinforces its commitment to providing revolutionary solutions and highlights the key importance of artificial intelligence in the transformation of the agricultural sector.