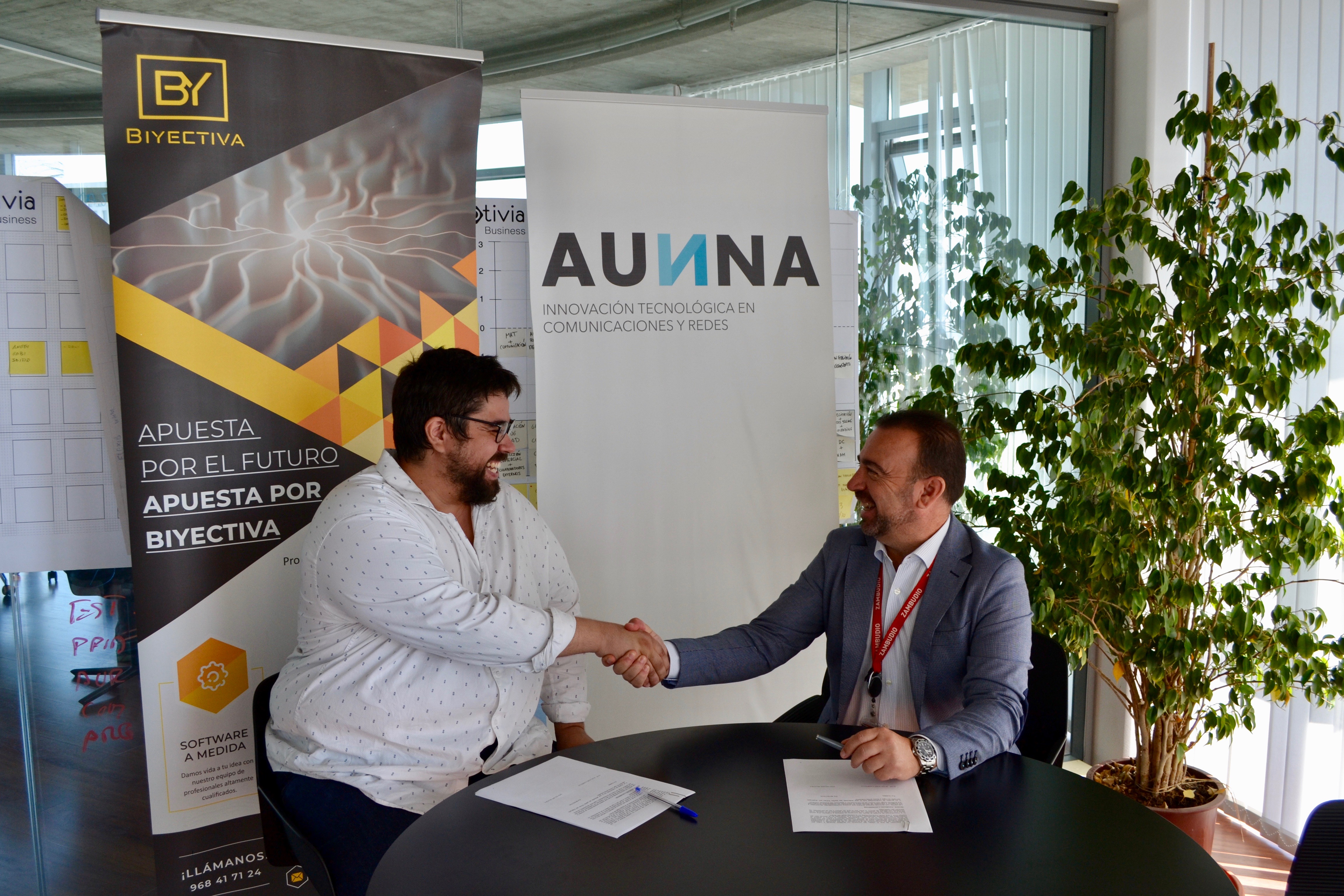 Felipe Segura, CEO de Biyectiva, y Juan José Campillo, CEO de AUNNA IT - 08/09/2021
The region of Murcia continues its rise as one of the national cradles of technological innovation with the creation of the first Hyperautomation Center of the Region of Murcia (CHARM), an entity that will work on systems research and the creation of projects that accelerate digital transformation of the companies. The start-up of this initiative has been approved by means of an agreement signed by the two companies that will carry out the project, AUNNA IT and Biyectiva Technology. The alliance also plans to turn CHARM into the reference center for training and advice for professionals in Artificial Intelligence, automation, and new technologies.
Since its inception, CHARM will be focused on working on wide-ranging projects involving specialists with extensive experience in their areas of work. The objectives of CHARM are: to ensure that the processes that are developed not only fulfill their function, but also represent a competitive advantage for those who use them, thus improving the capacities in attention, production, sales, management, or decision-making of its users. Additionally, to establish a center of excellence for the research and creation of innovative technologies that generate knowledge in the field of Intelligent Automation. Lastly, to constitute a place of reference with academic value for the training of experts in Artificial Intelligence, automation, and other technologies.
In this way, the Hyperautomation Center of the Region of Murcia will also be, according to the CEO of Biyectiva Technology Felipe Segura, "a space where educational centers, professionals, and universities converge in which technological talent is promoted to position the region as one of the most important centers of technological innovation and Artificial Intelligence, generating knowledge, progress, and employment". "CHARM must be the point of reference for the generation of high value solutions that allow us to put the intelligent automation of processes at the service of improving the competitiveness of the region of Murcia", points out the CEO of Aunna IT, Juan José Campillo.
What is Hyperautomation
Hyperautomation is a recently created concept consisting of the combination of different technologies such as Robotic Process Automation (RPA), Machine Learning (ML), and Artificial Intelligence (AI) that aim to bring the highest possible level of automation to routine business processes. With these hyperautomation systems, iterative tasks can be carried out without human supervision based on past learning. In other words, hyperautomation will allow much of the decision-making to be delegated to technology as the system evaluates information, analyzes results, and executes actions to liberate the human team from repetitive tasks of the companies and so that the technicians perform other jobs that require their professional skills.
Events such as the outbreak of COVID-19 have forced an increase in research on automation. This has allowed public bodies, administrations, and companies to strengthen their services through robotics-based mechanisms that can absorb specific situations of high demand for services, such as those caused after the pandemic, in various areas such as customer service (e.g. hospitals, administration). In addition, hyperautomation makes it possible to establish financial control mechanisms, automated supervision, intelligent document management, image analysis, management processes, and much more.
About AUNNA IT
AUNNA IT has been working on process automation since 2016, mainly on the contact processes of large companies in fields such as telecommunications or the health sector. They recently expanded with the automation of financial, marketing, and industrial processes. AUNNA IT is specialized in non-intrusive integration with the production systems of clients, carrying out projects throughout the national territory, as well as in other European and Latin American countries. The extensive experience in these sectors has led AUNNA IT to create its own automation framework based on internal developments to complement and make the tools already available on the market more flexible.
About Biyectiva Technology
Biyectiva Technology develops new, original, and innovative technologies based on Artificial Intelligence to improve the performance of companies. Since 2018, it has been working with leading national and international companies in sectors such as medicine, sports, retail, or interactive marketing; offering technological products and services tailored to the needs of its clients. During the year 2021, the trajectory traveled by Biyectiva Technology has led it to become an entity accredited by the CARM Ministry of Education to provide specialized training in AI and new technologies. Biyectiva Technology, the first private company in the Region of Murcia recognized in the Map of AI Capabilities by the Government of Spain, is the leading company in AI-based technologies in the Region of Murcia, managing to broaden its horizon to other sectors such as agri-food and energy, among many others.